10-Day Debt Management for Millennials PLR ECourse ready to be used for list building, autoresponder emails and training your subscribers.
#Debt #Debtmanagement #Millennials #DebtsOrganized #PayingOffDebt
10-Day Debt Management for Millennials PLR ECourse
10-Day Debt Management for Millennials PLR ECourse ready to be used for list building, autoresponder emails and training your subscribers.
Simply slap your name on the squeeze page, monetize the emails with your own offers or affiliate offers and then pop them into your autoresponder tool like Aweber or GetResponse.
As you just already know, The Debt Management for Millennials is evergreen and extremely profitable, so building your Popular Joint Venture Profits email list, and training your customers while monetizing your emails is the best way to make money with this Debt Management for Millennials PLR newsletter emails.
This is a complete ecourse consisting of Debt Management for Millennials emails messages with private label rights to help train your customers on Debt Management for Millennials.
has been added to your cart!
have been added to your cart!
Introducing The…
10-Day Debt Management for Millennials PLR ECourse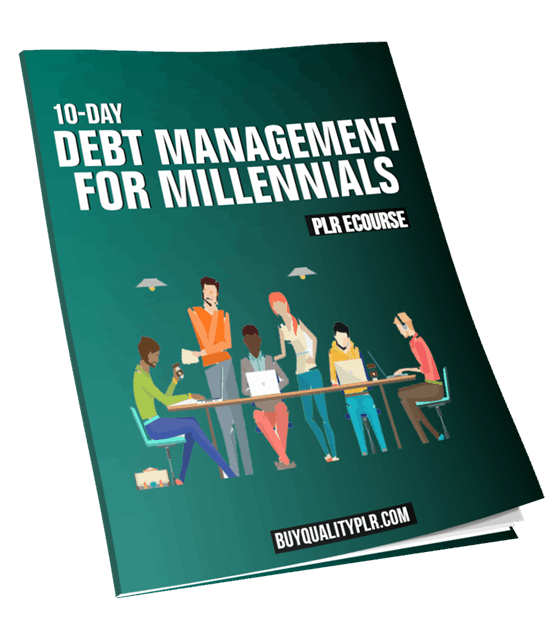 Below are the Debt Management for Millennials that you are going to learn:
1. How to get your debts organized
2. How to set your budget while you're in debt
3. Which bill paydown method is right for you?
4. Should I refinance my debt?
5. Student loan forgiveness – does it exist?
6. Paying your mortgage off fast
7. Paying down your car loan
8. Debt management tools to manage your finances
9. How to find extra cash for debt payoff
10. Where to get professional help with your debt problems
How Can You Use This Private Label Rights Ecourse To Make Money?
Use it to build a list of loyal subscribers that are eager to buy from you
Use it as a ecourse to train your list
Offer the ecourse as a bonus for affiliate offers
Offer the ecourse as a bonus for your own offers
Monetize the emails with your own products or affiliate products
convert the content into an ebook and sell it as a PDF
Make changes to the content and use it as blog posts to drive targeted traffic
Sample 10-Day Getting Braces PLR Ecourse Message:
Subject: How to get your debts organized
When you decide to start getting control of your debt, the first part of this process is to assemble your debts so that you know the real-world picture. You may think that you know what you owe, but most people who aren't actively keeping track underestimate how far in debt they are.
Make a List
Start with your memory and make a list of your creditors. Organize them by type of debt: secured, unsecured, educational, and basic living. Every kind of debt needs to be handled in a slightly different way.
Check Your Bank Account
Double-check what has come out of your bank account for payments. That can jog your memory about creditors that you may have forgotten about. Plus, if you check your credit report andsomething is new, it may not be reported. If you pay rent, that too is not going to be reported.
Remove the Cards from Your Wallet
Now take all the cards out of your wallet and make sure you have listed these cards. You want to move these cards to a safe place once you note them. You're not going to keep credit cards in your wallet while you're working on paying down the debt.
Check Your Credit Report
Now check your credit report to see if anything is on that report that you didn't list as your debts. You should look at all three reports at least yearly, and you can do so for free by contacting them directly. You can also use CreditKarma.com but be aware that if you do that, you'll be bombarded by credit card offers and temptation.
Call Your Creditors or Look Online
Once you've got a good list going and you're sure it's all of the debt you have, take the time to double-check each individual account to get a real balance. Of course, the daily living expenses should have nothing to do with credit unless you have a mortgage. By each creditor, list the annual percentage rate (APR) as well as the minimum payment currently required and the full balance you owe.
Add Up the Total Amount You Owe
Now you'll want to add up the total that you owe in each category. Pay close attention to the amount you owe on your unsecured debt. This is the debt that you want to pay off first. For now, only pay the minimum amount you must pay for everything while you work on a pay-off method.
While you're in this process, put your cards away and stop using any type of unsecured consumer credit. This process may take you a couple of weeks. In the meantime, you're going to stick to your minimal required living expenses and minimum payments.
Note: If the minimum payment required on your card is not paying the entire interest amount owed, pay and list at least that while you're in this process. That way, the amount doesn't continue to go up.
Next time we'll look at a few critical budget-setting tips to help you manage and pay off your debts.
Please Note: This is only snippet of the content so you can see the quality of the PLR report.
has been added to your cart!
have been added to your cart!
Share this and get 5% off!
Related Products That May Interest You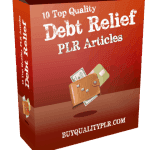 #Debt #DebtRelief #DebtReduction #DebtCrisis #DebtCollectors 10 Top Quality Debt Relief PLR Articles In this PLR Content Pack You'll get 10 Quality Debt Relief PLR Articles with Private Label Rights to…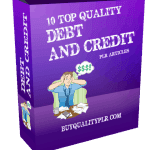 10 Top Quality Debt and Credit PLR Articles In this PLR Content Pack You'll get 10 Quality Debt and Credit PLR Articles with Private Label Rights to help you dominate…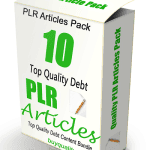 10 Top Quality Debt PLR Articles In this PLR Content Pack You'll get 10 Top Quality Debt Articles with Private Label Rights to help you dominate the Debt market which…
---
TAG : debt management plr, debt management plr autoresponder series, debt management plr ecourse, debt management plr email course, debt management plr emails, gdebt management plr emails
CATEGORY : Finance PLR, PLR Autoresponder Series, PLR eCourses, PLR Lead Magnets, Private Label Rights Products