by Mozie | Leave a comment

Looking To Purchase Products From Our Store Using Bitcoin (BTC)?
BuyQualityPLR.com has decided to start accepting Bitcoin as a payment method!
This is big news as Bitcoin cannot be ignored anymore, it's growth in the only world has been major and I believe someday soon, people will no longer need to use money or PayPal to make online payments.
So you're wondering..
How Can I Pay For PLR Products Using My Bitcoin?
Here's exactly what you need to do to place an order using your Bitcoin to pay for PLR products and content
Step 1 – Decide on which products you would like to purchase by browsing our PLR store at BuyQualityPLR.com
Tip: Be sure to check out our Niche Blowout Packages. They are bundles of 20+ related niche products mixed with PLR and master resell rights and are the biggest discount PLR packages you'll find in our store with over 70% off!
Step 2 – Add those products to your cart and you'll get a total figure
Step 3 – Copy and paste the total figure into Google.com like this:
10 usd to btc
So it will look like this: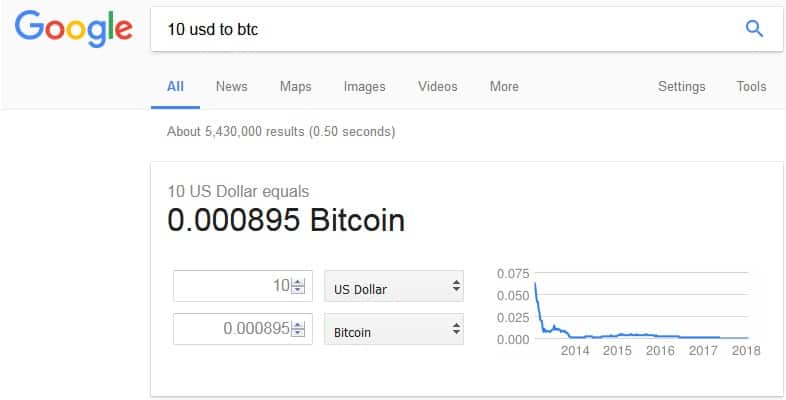 You can click on the above image to see the live example on Google.
Please note that the above example used $10.
But you'd have to put in the figure which was displayed in your shopping cart (the total cost of the products you're purchasing).
Step 4 – Send the amount in Bitcoin (BTC) to this BTC address:
1F3SYV4aCu2Hzkpjcp2Bo634nzN1rSnDf
Note: Please make the BTC address is correct as bitcoin payments cannot be reversed and it can take up-to one hour for the BTC payment to go through.
Step 5 – Once you've completed these steps, send me an email using this contact form.
Please include links to the products you want, the amount of BTC you sent and I'll verify and send over your products ASAP.
It's quite easy to do. So if you'd like to start buying PLR and resell rights content using Bitcoin, you can start doing so right away.
Happy Bitcoin Shopping!
Mozie @ BuyQualityPLR.com