this calming your mind plr planner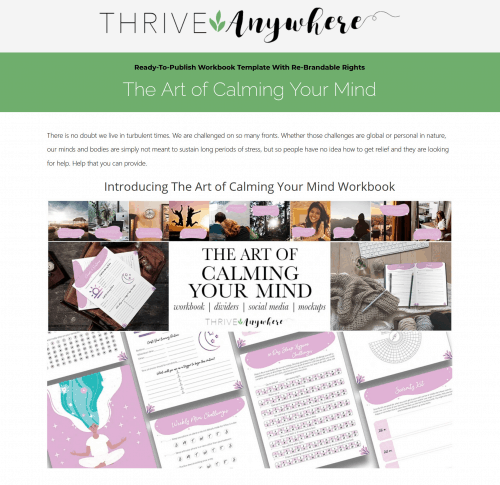 So many of your audience are hurting right now. As much as you want to, you can't remove their problems overnight. However, you can help equip them with better ways to stop marinating in the stress.
Check out this new PLR planner from Thrive Anywhere titled The Art of Calming Your Mind.
This Calming Your Mind PLR planner includes:
Product Includes
1 x journal
5 x dividers
3 x professionally edited mockups
30 x social media blurbs
10 x social media images
Inside, you will find pages to help your people…
Learn how to be compassionate to themselves
Take a social media fast (and probably rediscover other things that make them happier)
Make a plan to reduce exhaustive decision making over and over
Make a plan to declutter and create soothing spaces they can relax in and so much more.
All you need to do is download it, brand it, put an opt-in page to collect emails in exchange for your branded workbook. Then, follow up to help them stay on focused!
And if you are looking to make some money from this, throw in an accountability group offer before they download the workbook.
You can run a free challenge with a paid upgrade to your coaching, or charge for the challenge itself. There's almost no content you need to prepare upfront and this professionally put together workbook is already done for you.
You get rights to rebrand the contents:
Give it away as a lead magnet in PDF or JPG format.
Sell as your own product on your own website in PDF or JPG format.
Put your name on the product.
Modify the pages.
Add to membership sites.
Give to your customers.
Use as a bonus.
You can use Adobe InDesign or PowerPoint to edit the planner and divider pages. For social media images, you'll need a program that can open PhotoShop files and you'll use Microsoft Word to open and edit social media texts.
Here's the bonus. Use promo code JUNE30 to take half off the price.