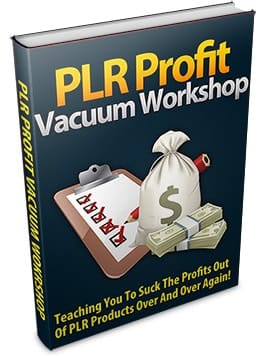 Choose Your Desired Option(s)
has been added to your cart!
have been added to your cart!
PLR Profits Vacuum Video Series With Mater Resell Rights
These 4 PLR Systems Are Netting Me $10,000+ Per Month… And Now For The First Time Ever I'm Sharing Them With You!
Many Internet marketers and close friends have asked me how I'm able to give my husband and 5 (yes, F-I-V-E) kids a comfortable lifestyle…
Announcing…   "PLR Profit Vacuum Workshop"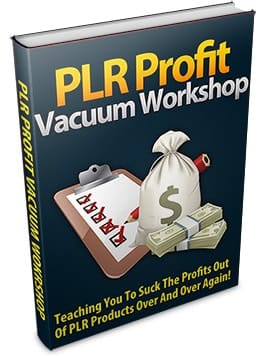 Handing You the 4 Most Powerful PLR Systems Anyone Can Profit From!
Why the weird name?
It's simple…
Because these PLR systems are designed to help you start sucking cash like there's no tomorrow!
Personally, I've vacuumed over $150,000+ into my bank account with these 4 PLR systems…
… and continue to attract sales DAILY.
So if you want to start sucking in cash every single day of your life and get a sweet taste of financial freedom…
Then just follow the blueprints and you'll find success relentlessly pursuing you!
"What You're Going To Get in PLR Profit Vacuum Workshop"
In PLR PROFIT VACUUM WORKSHOP, fellow Internet marketer Neil Day and I give you a full video introduction of the 4 proven PLR systems we'll be covering.
And for EACH of these 4 PLR systems, you'll get a step-by-step blueprint coupled with flowcharts & diagrams to help you start pulling in profits ASAP!
What are the 4 PLR Systems?…
Here they are all laid out so you can see exactly what this workshop covers!
PLR Profit Blueprint 1:  "Easy Affiliate System"
Most people struggle to set up their own money funnels because they don't know exactly how to do it with PLR!
Instead they get caught up with paying others $100's even $1000's to do it for them… when they actually can save on all that money.
You'll look over my shoulder as I show you how to pick a good niche for making the big bucks.
You'll also discover…
… How to put up your first product and charge $9.95 today… The 2 most important things to change when using PLR content… How to add more products to your backend funnel… and generate maximum sales with them.
Just follow this easy blueprint today and you'll have you own money funnel that will starting bringing you autopilot profits.
PLR Profit Blueprint 2:  "The Content Site System"
In this blueprint, you'll get the quickest, easiest way to create a ready-to-rock content site that makes money via adsense.
My favorite part?
Remember we're using PLR, so you don't have to create any of the content yourself.
It's mindlessly easy…
Even if you're a newbie Internet marketer, you can do this and profit!
I'll also give you my top recommended places to get the best PLR content for super profitable niches such as Internet marketing, weight loss, dating & relationship, self-improvement and much more…
And I'll even show you how to quickly set up a profit-generating adsense site with PLR content in less than 30 minutes!
You'll proudly have your own site set up and attracting clicks and cash today.
PLR Profit Blueprint 3: "The PLR Membership System"
Have you ever wanted to set up your own membership site that brings you a recurring monthly income?
If so, here's how I do it and how you can easily do it too:
The "6-step magic formula" for creating your own profit-pulling PLR membership site in less than 24 hours.
One of the best WP themes you can use to quickly set up your site (while having lots of fun doing it).
What you MUST DO if you want to attract massive sales without lifting a finger.
"PLR Membership Site Flow Chart" – This is my secret flow chart I refer to every time I want to quickly set up a successful membership site in a niche.
Today I'm actually going to share this step-by-step blueprint with you…
So you can go ahead and start generating $500… $1,000 or more PER MONTH with your own awesome membership site.
PLR Profit Blueprint 4:  "The PLR From Scratch System"
With this master blueprint, you'll discover my favorite, easy-to-follow "8 step system" to create and sell your very own PLR product!
Frankly, I'm surprised so few Internet marketers are doing this.
If you're an IM newbie, this is perfect for you to quickly catapult yourself ahead of the pack and make a consistent online income for yourself.
Click Here To View The Sales Page
License Details:
[YES] Can sell to your customers. (personal use only)
[YES] Can be sold, "as is".
[YES] Can include within website flips (personal rights only).
[YES] Can give away product from a squeeze page.
[YES] Can be used as a bonus to a paid product.
[YES] Can include in membership site for personal use of your members.
[YES] Can be combined with other offers or sold as a package.
[NO] Can sell Private Label Rights to customers.
[NO] Can sell the Resell Rights to customers.
Share this and get 20% off!