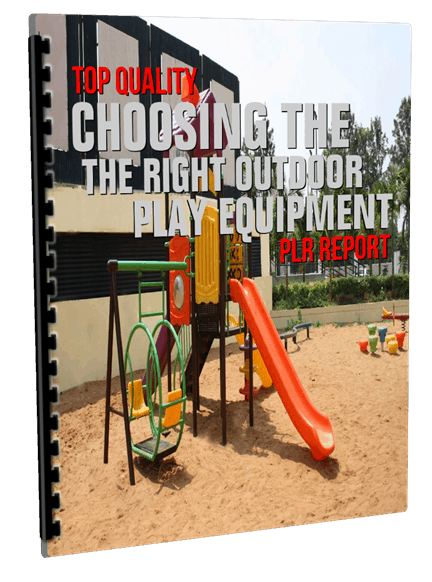 Choose Your Desired Option(s)
has been added to your cart!
have been added to your cart!
#OutdoorPlayEquipment #ChoosingPlayEquipment #PlayEquipment #OutdoorEquipment
Top Quality Choosing The Right Outdoor Play Equipment PLR Report
A Guide to Choosing Safe Outdoor Play Equipment for Children
Children love to be outside in the sunshine and fresh air. And they need unstructured play to develop some skills they'll need later in life. If they can find a great park to play in they can be occupied for hours climbing, jumping, and playing on the equipment. As a parent you may want to give your children the same type of fun at home, so you may be looking for hints on choosing safe outdoor play equipment for children in your own family.
The following report will give you ideas as getting your child's input for the play area, general buying points to consider, types of ground coverings for different areas, what materials of outdoor play equipment you may want for your children, how to buy the equipment you've chosen, the best layout or design for the play area, as well as safety tips you'll want to enforce. Hopefully, after reading this report, you will have a better idea of what you want when choosing safe outdoor play equipment for children you love.
Introducing The…
Choosing The Right Outdoor Play Equipment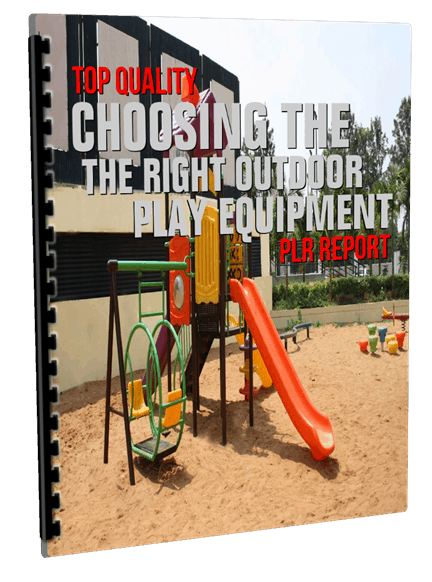 Get Your Child's Input
Since you're making the play area for your children or grandchildren, you may want to ask them what they want. They will be the ones using the equipment day in and day out, so it's important to choose pieces your children will actually use. Without asking them for their input, you may spend a large amount of money on equipment they'll never use both now and in the future when they grow up.
If you're lucky to find it, some playground equipment is designed to grow with your children. Although it will probably cost you quite a bit more, depending upon how old your children are, how long you plan to remain at the same location, and what your family's budget looks like this type of outdoor play equipment may be the most cost effective.
Consider what your child enjoys. Do they often play like they're knights in medieval times? They may like to have play equipment in the shape of a castle. Are they interested in gymnastics? You may want to provide a 'balance beam' close to the ground for them to practice balancing on.
The idea is to get your children's input into what they want in play equipment. Giving them a say in what the play area looks like will give them a sense of ownership. Does that mean you have to incorporate everything the children want into the final design? Absolutely not, however adding some of the items your child wants will let them feel like they had a say and who knows, they may have some really great ideas you'd never considered before.
For instance, did you know children love having plants and water in an outdoor play area? This will give them the opportunity to enjoy nature. They like to have a variety of surfaces levels. Not only do they like to climb chain walls, steps and ladders, they also like to crawl under things in their play. They also like structures which can be changed to suit their imaginative play.
Remember, children will benefit from unstructured play where they can use their imaginations. However, they'll also benefit from having something to spur that imagination as well as giving them plenty of room to play in an active way. Since they're outdoors, let them learn about the world around them. Give them the opportunity, as well as a safe place to play and their imaginations will soar!
General Buying Points to Consider
Manufacturers providing quality outdoor play equipment will be forthcoming about everything pertaining to their product. They will gladly indicate the fact they use non-toxic or low-lead paint to ensure the health of those using it. They will design their equipment so there are no bolts sticking out where children can be injured or their clothing torn. They will be able to be secured to the ground so they can't tip over while in use. They will also provide advice on what type of surface is best used with their equipment. Finally, if there are exposed ends, they will cover them so the raw edges will not injure children.
Check with the Better Business Bureau (BBB) to see if there are any red flags you should be aware of. People who are satisfied with a company often don't call the BBB to brag on a company, however if there were problems you can be sure the BBB would have heard about it. They will be able to tell you if there have been complaints and what the nature of the complaints was. Having this information can help you make the best informed decision when it comes to choosing safe outdoor play equipment for children you love.
If you have someone come to your home to set up an outdoor play area, don't leave your child's safety to chance. Ask to see a copy of the company's licenses; they'll most likely have to have at least one if not more. You may also want to ask for references and be sure to call them to ensure the company is reputable and others have been happy with their work. Of course, if you're doing the work yourself this won't be an issue to be concerned with.
Types of Ground Coverings
Many people don't consider what type of surface is best for outdoor play equipment. In some cases families will simply set up a store-bought unit and place it directly on the grass in their yard. In most cases that's not the best choice; in fact, the surface under an outdoor play area is as important as the location and the equipment from a safety standpoint. What type of surface there is under a piece of outdoor play equipment can determine the severity of an injury should a child fall from the equipment.
Surfaces not appropriate for playgrounds, whether at home or in a park, include asphalt, blacktop and concrete. They have absolutely no give to them should a child fall. It would also be better not to use grass, packed soil, or loose soil because the weather can adversely affect how they perform in cushioning a child's fall.
Appropriate surface choices include wood chips, mulch, sand pea gravel or shredded rubber which is at least 10-12 inches deep, particularly under equipment which is up to 8 feet high. If you have equipment higher than 12 feet high, you won't be able to find a surface material which would be considered safe enough.
When laying out the playground area, be sure to extend the cushioned surface at least 6 feet beyond the piece of equipment. For instance, if the swing set has a slide, you'd want to have cushioning 6 feet past the end of the slide where the child would exit. Additional cushioning may be needed for very tall slides or swings which are long.
has been added to your cart!
have been added to your cart!
Package Details:
Download File Size – 1.00 MB
Total Word Count: 3846+ Words
Word Doc Format – Source File
Text Doc Format – Source File
License Details:
You can add the articles or content to an ebook or product that you plan to sell or give away for individual use.
You can use the content to build your email list.
You can modify the content by removing, adding or otherwise editing to suit your needs.
You can use the content on your websites, blogs, newsletters or anywhere you publish content.
You can add your affiliate links, product links, Adsense and other ad code.
You can bundle the content into a viral report, free ebook, product or bonus for your customers.
You can charge for access to read this content. For example, a paid ebook, membership site or other paid access content.
You can translate it into another language and resell with personal use rights.
You can add the content as a autoresponder email series.
What you CANNOT do:
1 – You cannot give any type of resell rights to others. In other words, you can sell this stuff, but your customers can't.  Why?  This protects all our members and helps ensure there is a consistent limit on the number of sellers of this PLR. We allow 100 members/sellers maximum. Period.
2 – You cannot submit any of the content provided by Buy Quality PLR to reprint article directories or other websites which accept reprint content even if you have edited or reworded the content.
Why? Because many article directories won't take PLR articles. If everyone started submitting similarly written articles to these directories it wouldn't be fair for the directory owners, their users or our members. Be fair to everyone involved and don't do it, even if you feel you've edited or reworded the article.
Share this and get 20% off!