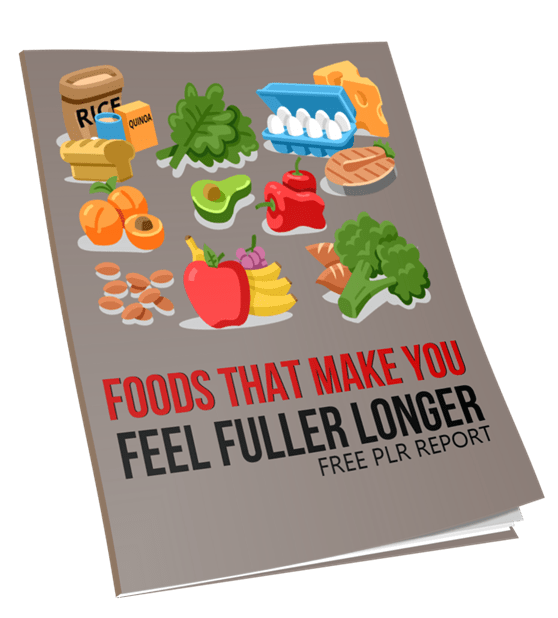 Top 10 Foods That Make You Feel Fuller Longer FREE PLR Report
in
Belly Fat PLR , Detox PLR , Dieting PLR Ebooks , Exclusive PLR , Food PLR , Food PLR Ebooks , Free PLR , Free PLR eBooks , Free PLR Reports , Green Living PLR , Healthy Eating PLR Ebooks , Lifestyle PLR , Mindful Eating PLR , Natural Health PLR , PLR eBooks , PLR Lead Magnets , PLR List Building Reports , PLR List Building Reports , Premium PLR , Premium PLR Reports , Private Label Rights Products
Choose Your Desired Option(s)
#feelfullerlonger #burningfat #losingweight #foods #eatingtips #eathealthy #healthyfoods #freeplr#lessfood #foodcontent #dietcontent #plrreports #freecontent #plrreport #listbuilding
Top 10 Foods That Make You Feel Fuller Longer – Quality FREE food PLR Including PLR Report Containing 1600 Words of Quality Content That You Can Download NOW!
Are you looking for Free PLR content?
But you're tired of finding old, badly written junk?
Look no further! BuyQualityPLR.com develops high quality FREE PLR products to help give back to our customers and help kick-start your business.
We also want to give you a taste of what you can expect with our Premium PLR content packs, and giving you some quality free products with a private label rights license is the best way to do so.
Please note: By Downloading this FREE PLR Content, you are agreeing to join our email list where we will send you tips, more freebies, special offers and free training.
Today, we have something special to give to you…
Introducing Our PLR Gift To You..

Top 10 Foods That Make You Feel Fuller Longer
FREEBIE PLR Report!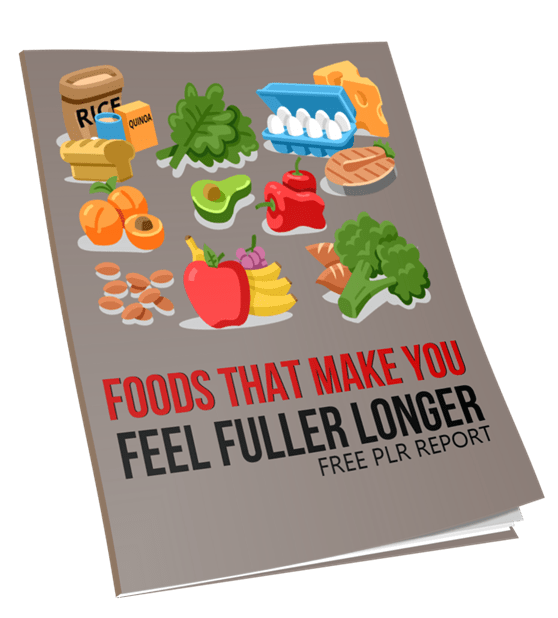 Here's what you'll get when you download "Top 10 Foods That Make You Feel Fuller Longer FREE PLR Report" today…
Report: Foods That Make You Feel Fuller Longer

(1635 words, 8 pages, 4 images)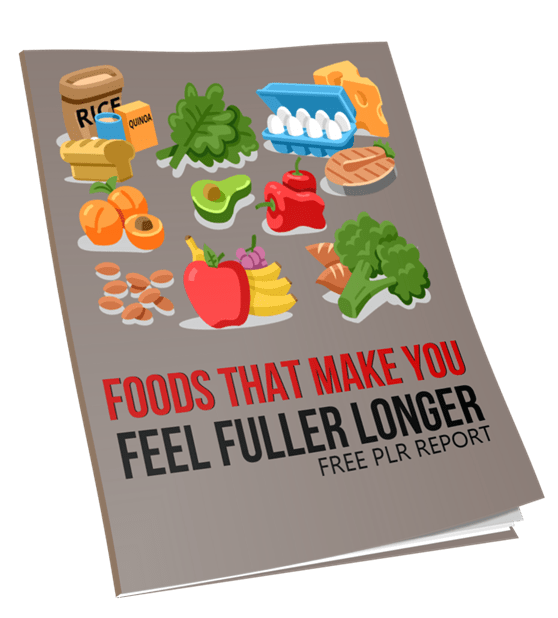 Sample of Top 10 Foods That Make You Feel Fuller Longer FREE PLR Report:
Burning fat, losing weight, getting in shape and looking great is easy … when you eat healthy foods that make you feel fuller longer. Some foods naturally deliver a smaller calorie investment while giving your stomach a full feeling. You feel full, so you eat less, your calorie count goes down, and so does the size of your waistline.
When you eat foods that provide little nutritional value with their calories, your mind tells you to eat more. It says, "Hey, we need nutrients, minerals and vitamins!" So you reach for more of the unhealthy food that is sitting in front of you. You eventually become full, but take in way more calories, fat and processed nasties than your body needs.
The result? You pack on the weight and fat, your heart, circulatory system and entire body suffers, and you find yourself hungry again relatively quickly. Eat the following 10 healthy, nutritious types of foods that make you feel fuller longer, and you'll begin to lose weight as your whole body becomes healthier, and you begin to feel and look great.
A look inside the Foods That Make You Feel Fuller Longer PLR Report:


Let's face it, most FREEBIE PLR products you find online is old, rehashed, and over-used content, and some not even written by English Speakers.
And that's why, we're giving this Free PLR to you…
This is your chance to grab a high quality food PLR product for free as our gift to you and our ethical bribe to get you to taste our PLR content quality.
But remember, we're limiting download to 200 people per free PLR offer. So don't sit on the fence too long or this free PLR product might be taken down without notice.
Click the button below to download it now!
PLR Package Details
"Foods That Make You Feel Fuller Longer" – in Word Doc and PDF format.
(1635 words, 8 pages, 4 images)
PLR License file in PDF format
Your PLR License Terms
Articles, reviews, comparison charts and all other content from BuyQualityPLR.com Premium PLR Content are for you only – you cannot pass on any rights to anybody else.
More information on the PLR rights that come with your purchase:
What You CAN Do With The Content In This PLR Package:
Can be added to or edited completely.
Can put your name on as the author.
Can be used as content for websites, courses, newsletters, eBooks.
Can be used in videos, MP3s, books.
Can sell or give away for personal informational use only.
Can add the content to your coaching membership site
Can add the content to a paid membership with Personal Use Rights (PDF).
Can be offered as a bonus in PDF format (as long as you don't offer PLR rights).
Can add to a website that is sold with a unique domain name (no templates/ PLR sites) as long as you don't offer PLR rights.
Can rewrite and add the articles to client websites and projects.
Can use the content to build your list (PDF format)
What You CANNOT Do With This Content
Cannot sell or give away Resale Rights, Master Resale Rights or Private Label Rights.
Cannot offer through auction websites or dimesales with PLR rights.
Cannot add to a free membership site in any format with PLR rights.
Cannot pass on any PLR rights to your clients.
Cannot use my name on the PLR content.
Cannot use as is to publish Kindle books (it's against Amazon's terms).
Cannot use in article directories unless you rewrite completely.
Cannot pass along (sell or give away) Private Label Rights in ANY format.
Cannot sell this entire PLR package as is
Cannot add this package to a PLR membership site (only the ebook with personal use rights)
This license is non transferable. Meaning this PLR license is for you only and not for your customers.
Your customer can only learn from the content.
You can use PLR articles on as many of your own sites as you wish.
Can It Be Used For Website Flipping? If you add this PLR to a site and decide to sell it, that's fine. But it can only be sold on sites that come with a unique domain name (i.e. not on PLR website packs that include templates/content sold to multiple buyers but no domain) and please don't include the separate package with all the keywords/ bonuses.
—————
IMAGE LICENSE
—————
Social media images may be edited using the PSD files, and you may repost them on social media sites but you cannot sell or pass on the PSD files to customers.
The images contained within the main report and top 10 tips report are Public Domain and free to use in personal and commercial projects.
Share this and get 20% off!
Related Products That May Interest You