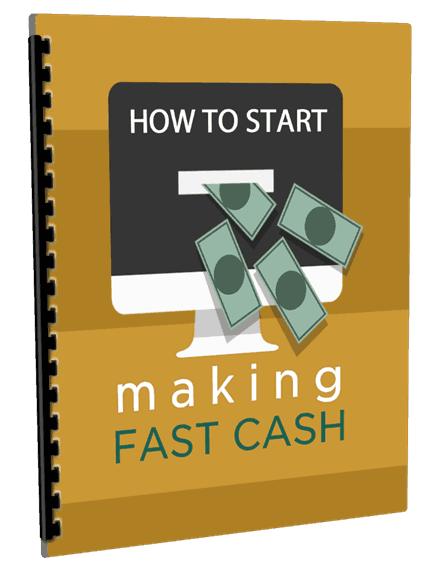 Choose Your Desired Option(s)
has been added to your cart!
have been added to your cart!
#MakingFastCash #MakeMoneyFast #MakingMoney #SellingProducts #MakingExtraMoney
How To Start Making Fast Cash PLR Report
How to Capitalize On Your Skills and Assets to Make Money Fast
Sometimes you just need a bit of cash and you need it fast. It happens for any number of reasons. Maybe you want to make an extra car payment. Perhaps you owe more taxes than you anticipated. Maybe you want to buy a new computer or your dog needs surgery. There are thousands of reasons why someone might need cash fast and the reason really doesn't matter.
What matters is how you find that extra cash.
Buying lottery tickets in hopes that you win big is fun but it's not a feasible plan. The odds are against you. Whether you're saving for an upcoming vacation or you're behind on your bills and want to catch up you can earn money quickly by capitalizing on the skills and assets you already have.
Many times when someone needs extra money they start looking to outside resources to help them. Maybe they take out a high interest rate loan. Maybe they ask friends or family. Maybe they take on another job or work overtime. All of those are options to be sure. However, you probably have better options right in front of you.
You Possess Unique Skills, Talents, Knowledge and Resources
Generally, the best way to make money is to focus on the things that are unique to you. We're talking about your skills, passions, interests, knowledge and even the stuff that you already own.
has been added to your cart!
have been added to your cart!
Introducing The…
How To Start Making Fast Cash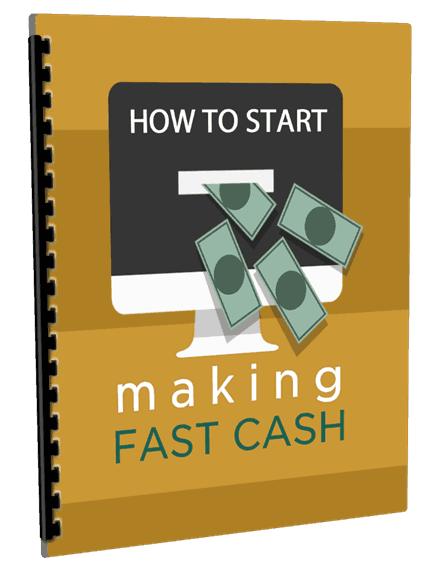 There's a lot of money to be made and when you focus on what makes you special, you're able to not only enjoy making that extra money, you'll also have a much better chance at success.
For example, Sue is in need of cash to pay for car repairs. She needs her car to get to work and of course she needs to get to work to pay her bills. Sue is sharing her predicament with a friend. This friend, who wants to help, tells Sue that she needs some alterations done on some clothing and she'd be happy to pay her to do the alterations. Sue agrees because she needs the money but she hates sewing and she's not very good at it. She is however a fabulous chef and makes cupcakes that are little works of art. If Sue had done a little digging she would have learned that there was a craft fair in town during the weekend and she could have put up a booth and sold her cupcakes and other baked goods to earn the money she needed. Instead, she spent the weekend sewing, grumbling, and unhappy.
What Makes You Happy? What Do You Have to Offer?
From crafting to home repair there are myriad options for you to choose from. Each interest, skill, and passion presents an opportunity for you to make extra cash. Maybe you love gadgets and have a closet full of old cell phones, computers, computer parts, and even old gaming consoles. You could make a mint selling those electronics. And that's just one idea for a gadget lover to make money.
If you're in dire straits and need cash fast it's difficult to set aside that panic, fear, and frustration and brainstorm what you're good at and how you can make extra money. However, that's exactly what you need to do.
When you can focus on what you have to offer it's so much easier to make money quickly and you'll have fun doing it.
Pull out a piece of paper or grab a notebook and write down the things you love to do, the things you're good at, the things you are interested in learning about and your existing belongings and resources (because you can earn cash by selling your clutter).
For example, a list might look like this:
Enjoy being outside – lawn care, gardening, dog walking, and snow shoveling
Have an old collection of coins from great grandpa that are sitting in the attic.
Also have that collection of Mexican tiles that I meant to make something with five years ago but never did.
Knowledgeable about training and caring for parrots.
Certified accountant and able to do tax returns for others
Each one of these is an opportunity to make extra cash and this report is designed to show you how to make it happen. The goal of this report is for you to identify the resources, assets, and opportunities around you and to turn them into wonderful cash. Who knows, your quest for additional income may turn into a full time business for you. It's been known to happen!
Inside This Report
Over the next twenty pages you'll discover…
How To Capitalize On Your Assets & Resources Making Money By Selling Products
25 Different Items In Your Attic That You Can Sell Today (And How To Sell Them)
22 Products You Can Make And Sell (And How To Sell Them)
How To Profit From Your Passions And Interests
7 Questions To Ask Yourself Before You Sell Anything
How To Make Money Selling Other People's Products
Capitalizing On Your Knowledge, Skills, & Abilities By Selling Your Services
25 Different Services You Can Offer Today (And How To Sell Them)
How And Where To Offer Your Services To Make The Most Money
The Business Of Making Extra Money – Tips And Strategies For Success
How to Use this Report
This report is designed to help you make the money you need in the time you need it. It discusses everything from how to choose the right income model for you to how to successfully set up your business and make quick profits.
There are two potential approaches to using this report.
The first is to read it through cover to cover. Then go back and review and highlight the areas you wish to focus on first.
This is the appropriate approach if you like to read material and think on it before you take action. However, you may want to keep a notebook handy when you're reading so you can jot down any thoughts or notes.
The second approach is to read the report and take action as you work your way through it. Of course you can always take a combined approach. Take notes on some items and action on others!
has been added to your cart!
have been added to your cart!
Package Details:
Download File Size – 1.00 MB
Total Word Count: 7185+ Words
Word Doc Format – Source File
eCover Graphic – Jpeg Format
License Details:
You can add the articles or content to an ebook or product that you plan to sell or give away for individual use.
You can use the content to build your email list.
You can modify the content by removing, adding or otherwise editing to suit your needs.
You can use the content on your websites, blogs, newsletters or anywhere you publish content.
You can add your affiliate links, product links, Adsense and other ad code.
You can bundle the content into a viral report, free ebook, product or bonus for your customers.
You can charge for access to read this content. For example, a paid ebook, membership site or other paid access content.
You can translate it into another language and resell with personal use rights.
You can add the content as a autoresponder email series.
What you CANNOT do:
1 – You cannot give any type of resell rights to others. In other words, you can sell this stuff, but your customers can't.  Why?  This protects all our members and helps ensure there is a consistent limit on the number of sellers of this PLR. We allow 100 members/sellers maximum. Period.
2 – You cannot submit any of the content provided by Buy Quality PLR to reprint article directories or other websites which accept reprint content even if you have edited or reworded the content.
Why? Because many article directories won't take PLR articles. If everyone started submitting similarly written articles to these directories it wouldn't be fair for the directory owners, their users or our members. Be fair to everyone involved and don't do it, even if you feel you've edited or reworded the article.
Share this and get 20% off!
Related Products That May Interest You