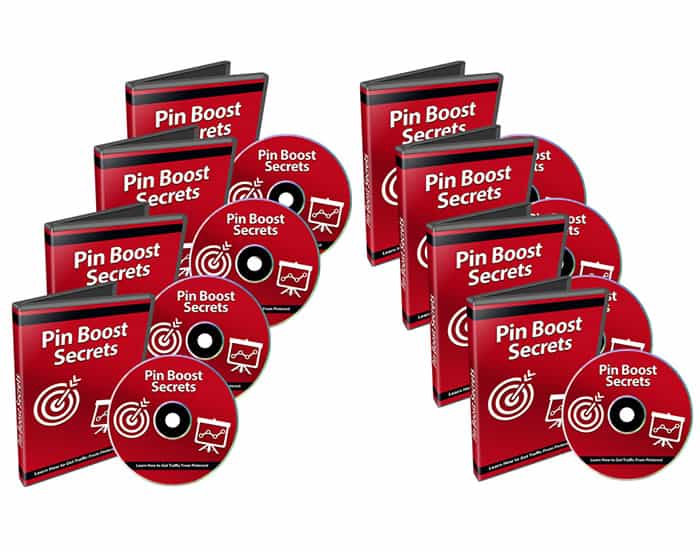 Pin Boost Secrets PLR Videos
in
Business , Business Coaching PLR , Business PLR , Business PLR Videos , Featured PLR Products From Our Store , Internet Marketing , Internet Marketing PLR , Internet Marketing PLR Videos , Make Money Online , Make Money PLR , Marketing PLR , Marketing PLR Videos , Online Business PLR , Pinterest PLR Videos , PLR Videos , Private Label Rights Products , Products with Sales Pages , Social Media , Social Media Marketing , Social Media PLR , Social Media PLR Videos , Traffic Generation , Traffic Generation PLR Videos , Traffic PLR Videos , Twitter PLR
Choose Your Desired Option(s)
has been added to your cart!
have been added to your cart!
#pinterest #business #marketing #socialmedia #shopify #marketingonpinterest #pinterestimages #trafficgeneration #socialmediamarketing
Pin Boost Secrets PLR Videos
Finally, Discover How to Generate Traffic With Pinterest & Get More Clicks With This Simple and Easy to Follow System, Starting Today!
It's a fact that Pinterest is huge and has tons of prospects waiting to find you.
According to Shopify – from their analysis of over 25,000 online stores – they found that the customer who initially comes to Pinterest, via Facebook or Twitter, will spend about twice as much as those who don't. These are just some of the countless amazing statistics from Pinterest. If you're a business, then you'll want to tap into this market.
According to new research, "Roughly 25% of consumers reported purchasing a product or service after discovering it on Pinterest."
Compared to most social media sites, Pinterest decreases the amount of steps users take from discovering something interesting to a conversion.
But here's the problem.
Most people are marketing on Pinterest WRONG!
In fact, you may have tried it and not gotten any results and thought, "This doesn't work."
However, you have to do it properly and provide what we call, "Pin Worthy" images.
You're competing against thousands of other images, so how do you survive?
What should you put in your images?
How should you lay out your funnel?
Is there a blueprint or a formula to this madness?
has been added to your cart!
have been added to your cart!
Who is this PLR Video Course Perfect For?
Internet Marketing Coaches
Book Marketers
Affiliate Marketers
Digital Product Resellers
Email Marketers
Membership Site Owners
Marketers looking for Editable Video Guides and Tutorials with Private Label Rights
Newbie marketers looking to learn from it
Online businesses looking to grow
Serious Marketers
And many other ways!
The fact is that people love learning from videos and video training in highly in-demand because people prefer learning from videos.
Introducing…
Pin Boost Secrets PLR Videos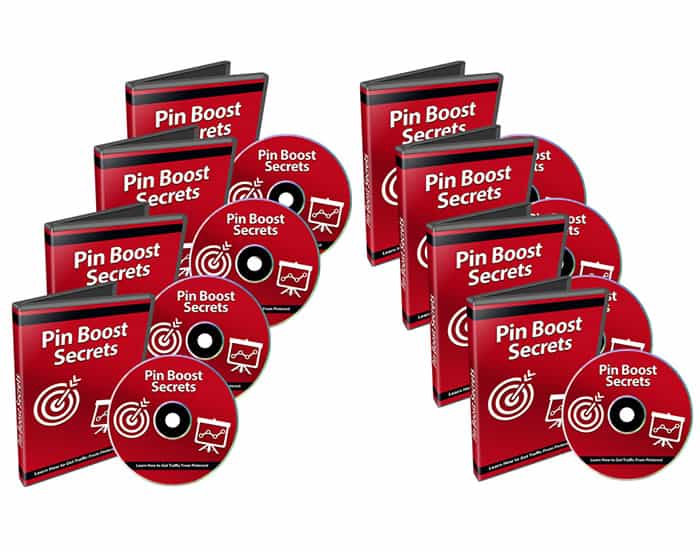 Here's a breakdown of this 9 part video series in more detail.
Video #1: Introduction
While everyone else is pinning their hearts out and wondering why it's not converting, you're going to be doing something else. In this video, we're going to make sure you have the right mindset, so you can successfully implement this strategy. To goal is to ensure you're not thinking like everyone else. You'll get an idea of what tools you'll need as well.
Video #2: The Platform
Before we get started, it's crucial that we're on the same page. You're excited about learning how to use Pinterest to get traffic, but to ensure your success is high – we want to make sure you're hitting the bullseye or at least close to it. Part of understanding how to get traffic from Pinterest and convert it, is understanding how it ticks. How it's different from others is crucial and is a much-overlooked part of the process.
Video #3: Quality Is Key
Once you understand how Pinterest works and what type of people go to it, we'll talk about the images that you add to these boards. It's obvious that you'll be competing with 1000's of other businesses or individuals, so your images and other visual content must be extremely high quality. But how do you go about creating these high-quality images? What if you don't have the funds to hire a graphic designer? Where do you go? What do you do?
Video #4: Congruency
When it comes to creating a funnel that generates traffic and converts it into sales, it comes down to congruency. This is an overlooked concept and you need to understand how to apply it in your funnel. So, in this video, we'll cover each step of the funnel and what you need to do, step by step.
Video #5: Visual Real Estate Matters
No, we're not talking about houses here, but virtual real estate. In short, the size of your image matters a lot. You're going to discover the secret image type and shape that converts the best.
Video #6: An Attractive Pin
Once you understand the best converting shape in Video #5, you're going to learn how to apply that to real life. You're going to learn what tools you need to create a very attractive pin that will turn ugly and boring content into eye-catching pin worthy content.
Video #7: The Anatomy
As we're talking about images, I'm sure you're asking:
"Ok, what exactly am I supposed to put inside the graphic?" "Is there a blueprint or a formula?" Yes, there is and that's what we're going to cover in this video.
Video #8: Reverse Engineering Hack
Now that you understand the formula, how do you go about getting ideas on what images to use? In this video, we'll reveal a hack that you can use to find trending pins in your niche and reverse engineer it to find your competitor's secret sauce.
Video #9 – Pin Automation
Congrats, you've completed the course! This is sort of a bonus video that will make your pinning easier. Pinning lots of high quality images is crucial and you want to schedule their release as much as possible. But how do you do that when you're sleeping or on a vacation? We'll discuss some tools that's worked well for us that will automate this tedious and time-consuming process.
Grab this video course and learn how to generate high converting traffic from Pinterest.
This Private Label Rights Video Course comes with an entire business in a box reseller package that you can use, rebrand and resell at your wish.
Here's The Sales Video You'll Be Getting With This PLR Video Course:
Here's a Sample Video So That You Know What To Expect From These PLR Videos:
has been added to your cart!
have been added to your cart!
Download Package Details:
9 640X360 MP4 Flash Videos
9 1280X720 MP4 Videos
9 MP3 Voiceovers
9 Transcripts
Sales Video in MP4 Format
Sales-letter in DOC, HTML and PDF Format
Editable Graphics: Covers, Flat Cover, Header, Footer, Button (Images and PSD)
Total File Download Size:
983 Megabytes (MB)
Private Label Rights License:
Legal Disclaimer: This license is Non – Transferrable, meaning you cannot give these same rights away. If you want to sell rights to your customers, pay close attention to the license below. We closely monitor vendors that sell the product and take legal violations seriously.
DO NOT Change this license…violations will be obvious will be prosecuted under the DMCA federal law.
You cannot give the product away for free, even to your list…
What You Can do:
[YES] Can Sell This Product
[YES] Can Be Packaged with Paid Products. 5 PRODUCTS MAXIMUM
CAN BE BUNDLED
[YES] Can Be Offered as a bonus to Paid Product
[YES] Can Be Added to monthly Paid MEMBERSHIP or Training SITES
* If you have a membership site where people pay a onetime fee to get
into download 100's of products, then you cannot include resell rights
this product in that bundle.
[YES] Can Put Your Name on the Sales Page
[YES] Can Sell Resale Rights (Does not relate to PLR, meaning your
customers can resell the video as is…)
[YES] You can stamp your name on the videos, but you cannot sell PLR.
What You Can't Do:
You CANNOT Give your customers the AVI files or 1280x720HD MP4
files
You CANNOT Give Transcripts
You CANNOT Offer In Firesales
You CANNOT Offer in Dimesales
You CANNOT Offer These Videos in Firesales if there are more than 5
products.
You CANNOT Sell Master Resale Rights to videos as is.
You CANNOT Give away resell rights for free
You CANNOT Give away videos for free
You CANNOT Claim Original Copyright Repeat:
You CANNOT Sell Private Label Rights
Share this and get 20% off!
Related Products That May Interest You