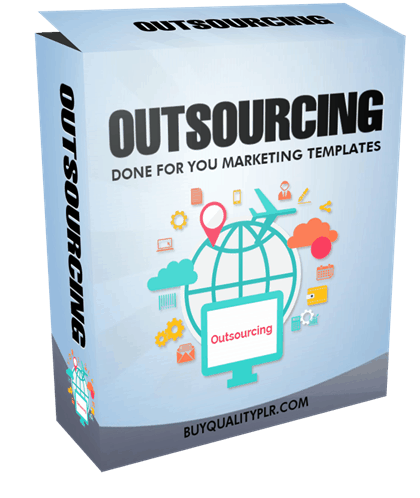 Choose Your Desired Option(s)
has been added to your cart!
have been added to your cart!
#Outsourcing #OutsourcingTips #ProjectListing #OutsourcingSites #OutsourcingTemplates
Outsourcing Done For You Marketing Templates
Outsourcing Done For You Marketing Templates – Outsourcing can be helpful for business owners of every level.
You can assign a task to someone else and have it done for you. After the job is completed to your satisfaction, you simply pay the person you hired and the work is yours to keep.
The Benefits of Outsourcing
The biggest benefit of outsourcing is that it removes unpleasant tasks from your to-do list. For example, you may not enjoy keeping track of your business's financial records. You could outsource this job to a bookkeeper. Every month, you would email your receipts to her. Then your bookkeeper will tally everything up and tell you how much you earned in profits.
Take a look at your to-do list right now. Look for the items that need to be done but you don't enjoy completing. Now, consider whether these tasks have to be done by you or if they be handled by someone else.
Another benefit of outsourcing is that it can save you a lot of money. Maybe your strength isn't in graphic design. You spend hours each week, trying to create images for your blog and social media accounts.
You don't like having to spend that much time and you don't particularly like the look of the graphics you make. But you keep doing it because you think you're saving money.
The problem is if it takes you 3 hours to make a graphic and you get paid an hourly rate of $75, then you essentially paid $225 for that image. Now, if you outsourced the project and paid a professional designer $97, then you've actually made a profit of $128.
Outsourcing also gives you the gift of focus. When you try to handle everything yourself, you end up wearing many hats. You're the product creator. You're the customer support representative. You're the copywriter. You're the web designer. You're the graphics expert.
Handling all of these different tasks can leave you hopping from one crisis to the next. You're so busy tending to your business that you can't afford to grow it. But with smart outsourcing, you can reclaim your focus and get back to developing your business.
When you outsource, you also relieve stress and let go of frustration. For example, you've spent a week freaking out over your sales page. You've tried repeatedly to create the copy you need but nothing sounds right to you. The product launch is getting closer and you're beginning to feel overwhelmed.
Rather than continue to struggle with this task, give it to someone else. Hire a copywriter you've always wanted to work with. Reach out to a fellow business owner who has excellent sales copy and ask for an introduction to their copywriter. Then sit back and enjoy the feeling of your anxiety melting away.
has been added to your cart!
have been added to your cart!
Introducing The…
Outsourcing Done For You Marketing Templates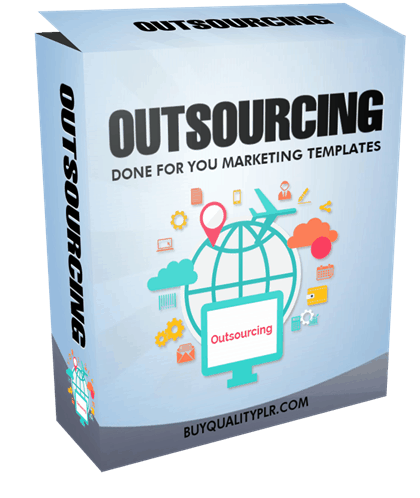 Let's Talk About the Outsourcing Templates and Tools Included in this package:
Our goal every month is to make things simpler for you…to make quicker work of getting better RESULTS from your outsourced projects. With that in mind, let's look at this month's tools.
4 Project Listing Templates
You'll get 4 fill in the blank templates to use as job listings when you are looking to outsource specific projects for your business.
You'll get templates specific to each of the following type of projects:
Graphic Design Work
Virtual Assistants
Writing Work
Web Development
Evaluating Applications Checklist
Part of the struggle with outsourcing is not knowing who to choose to work with. This checklist will help you thoroughly evaluate the responses and applications you receive back from potential outsourcers to ensure you make the right choice for your business
Suggested Interview Questions
We've included a list of interview questions you can use as you begin talking to and assessing potenial contractors.
4 Project Specifications Templates
We have also included 4 fill in the blank Project Specification templates to use to ensure you don't leave out the important details as you outsource your projects.
You'll get specification templates that are specific to the following type of projects:
Graphic Design Work
Virtual Assistants
Writing Work
Web Development
Quality Check Checklist
We want you to get the best work out of your contractor, so we've included a detailed quality check checklist that you can go through to ensure you are receiving quality service for your outsourced project.
Constructive Feedback Template
It can be difficult to provide constructive feedback when outsourcing. We've made it easy for you by providing a fill in the blanks template you can use to address any questions or concerns you may be having with your projects. No more struggling to find the right words.
Big List of Outsourcing Sites
Finding the perfect person for the job can seem overwhelming at first, but we've provided a comprehensive list of websites for you that will help you in your outsourcing search.
As you can see, all of the templates included in the Outsourcing Templates bundle will give you the boost you need to get started outsourcing for your business so you can finally focus on the tasks that will grow your business.
You will also get all of the templates in a raw unformatted version, so you can use your own creativity and create your own branded documents.
Grab these awesome done-for-you Outsourcing Templates while the price is still low and learn to properly outsource tasks in your business.
You'll also get an insider guide to explain everything to you and give you the extra edge.
This information along with this month's tools will help you grow your business using Outsourcing
Grab your Outsourcing templates pack today!
has been added to your cart!
have been added to your cart!
Package Details:
Insiders Guide
Outsourcing Templates
Project Listing Templates
Project Specs Templates
License Details:
[YES] Can be used for Personal Use
[NO] Can convey and sell Giveaway Rights
[NO] Can convey and sell Resale Rights
[NO] Can convey and sell Master Resale Rights
[NO] Can convey and sell Private Label Rights to the original document
Share this and get 20% off!
Related Products That May Interest You