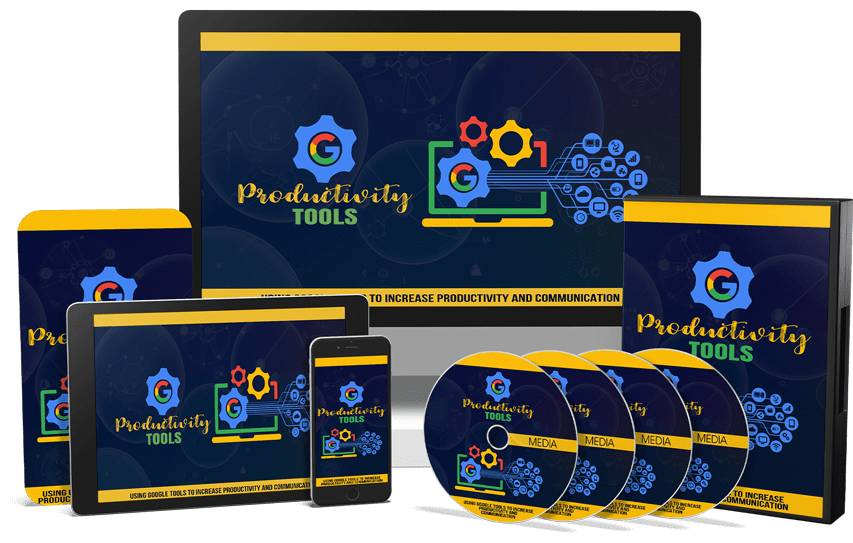 Google Productivity Tools Video Course Sales Funnel with Master Resell Rights
in
Complete Sales Funnels , Google , Google Products Videos MRR , Internet Marketing , Lead Magnets , Master Resell Rights Products , MRR Videos - Master Resell Rights Videos , Products with Sales Pages , Resell Rights Lead Magnets , Resell Rights Products , Resell Rights Sales Funnels , Resell Rights Videos
Choose Your Desired Option(s)
has been added to your cart!
have been added to your cart!
#google #googledocs #googledrive #googlehacks #googletools #googleadvancedsearch #googleclassroom
Google Productivity Tools Video Course Sales Funnel with Master Resell Rights
Give Me Less Than Ninety Minutes And I'll Show You How to Dramatically Increase Your Productivity With The Simple To Use Tools From Google
In this Course, You'll Find Out How To Make The Most of Google Productivity Tools For Managing Your Life and Business
You've come to this page because you've probably taken every kind of Time Management and/or Productivity Training available. You're probably tired of hearing… .
Just Take Action…or
Focus On your Vision… or Just do cool stuff
Or maybe you'll hear…Get all of your stuff on to a To-Do List… Or Get A New Productivity Software Tool
And you start to wonder, what should I try? Is there one tool I can buy that will help me?
Some of The Best Thing In Life Really Are Free
The fact is that Google has already created some of the best and easily accessible productivity tools available.
What's best of all, they're free…
In fact, you're probably already using some of them now, things like the Calendar and E-Mail (G-Mail)…
You're probably wondering, can I be using them more or better? Is There a way I can use these tools to get more done in less time?
The answer is yes and no. Have you been through the experience of accidentally opening one of the menus of these tools and discovering something cool and helpful?
It's likely you have and you're not alone. The problem is that you discover these things by accident. If you only knew where the other tools were just like the cool ones that help you were…
Of course, you could go into every menu and read every message board and read all of the Google Product Forums and watch all of their videos. If you did all of that, you'd be half way there.
The real power with these tools is how they work together to save you time and effort.
Once you know this, you will be saving time and getting more things done with ease…
But There Is No Manual on How to Tools Work Together, Right?
That is the thing..there is no real manual or module on how the tools can work together to save you from doing redundant things and from doing things that ultimately cost you more money.
Think of what it would be like if you could set aside ninety minutes to get real training on how to use the Google Tools that save you time. And then you'd only have to build on top of what you learn as time goes forward, you'd have the right combination to grow your productivity.
Introducing…
G Productivity Tools
Using Google Tools To Increase Productivity and Communication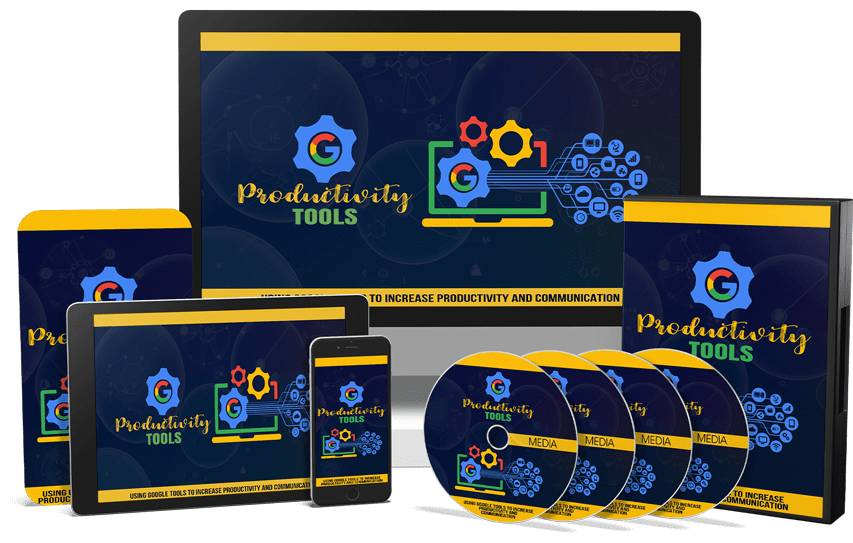 Here's exactly what you'll get inside the course:
The G Productivity Tools Video Course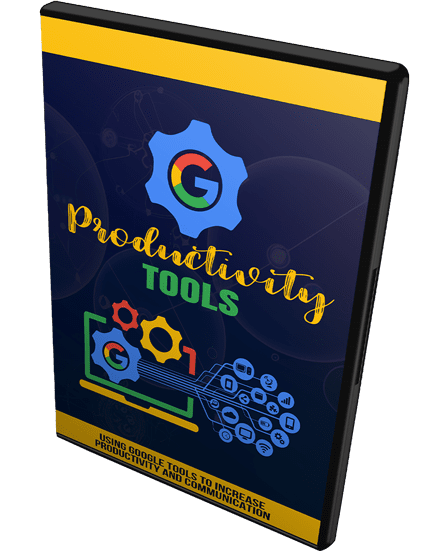 What you'll discover in these Videos:
Train Your Team with Google Classroom
Transcribe Audio with Google Voice Typing
Transcribe Video with YouTube
Hack Gmail External Tools To Increase Productivity
Hack Gmail Internal Tools To Increase Productivity
Hack Google Calendar For More Productivity
Understand Basic Google Tool Relationships
Create and Use Google Docs Collaboratively
Use Google Drive Collaboratively
Use Google Keep Collaboratively
Use Google Hangouts Collaboratively
Extend the Reach of Collaboration with Google's Paid Tools
SPECIAL BONUSES FOR TAKING ACTION!
FAST-ACTION BONUS #1: Lead Magnet Page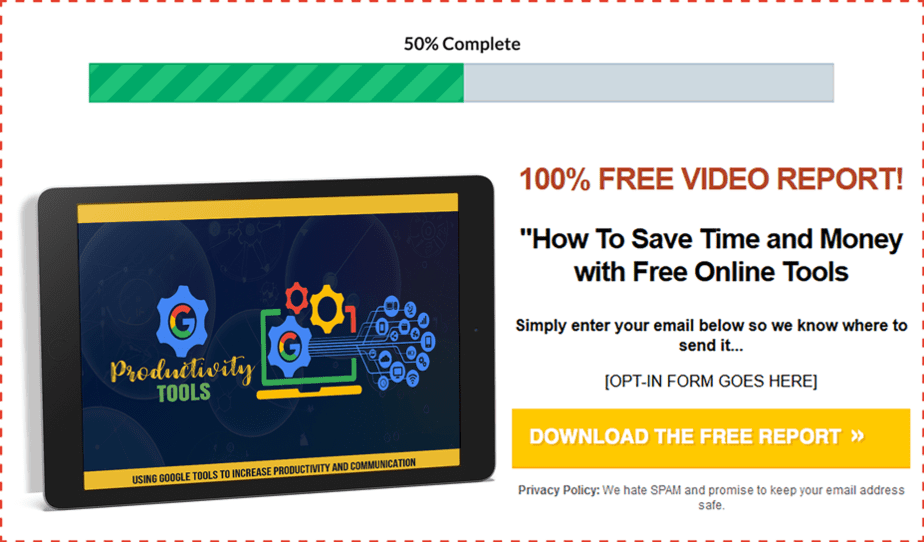 Use This To Catch Prospects
FAST-ACTION BONUS #2: Video Mindmap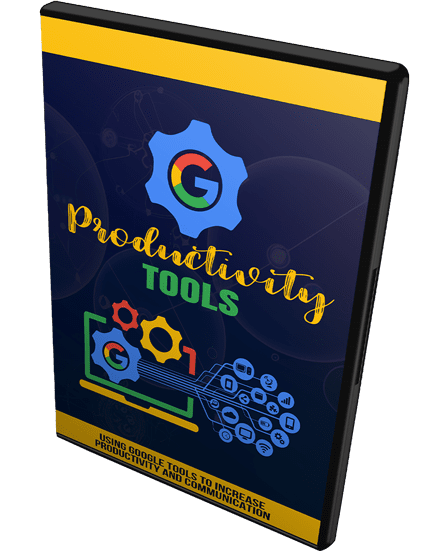 Our Mindmap is a Video Guide of the Main Points of the Course and How it Works
has been added to your cart!
have been added to your cart!
Now You Can Get Instant Access To A Practical "Hands On" Video Course With 27 Additional Over the Shoulder Video Tutorials Showing You How to get even MORE Productivity In Your Work with Google Tools In 10 Essential Concepts
If you're like most people, you're going to be super excited about what you're about to learn about real life marketing strategy.
But, it's possible that you also may be like most people in that the "tech-y" stuff slows you down.
In fact, it makes some people give up altogether.
But don't worry, I've got you covered
I recorded a "hands on", over the shoulder, step by step video course showing you all of the technical tricks that you'll need to know to bring the strategies out of the classroom and into your business.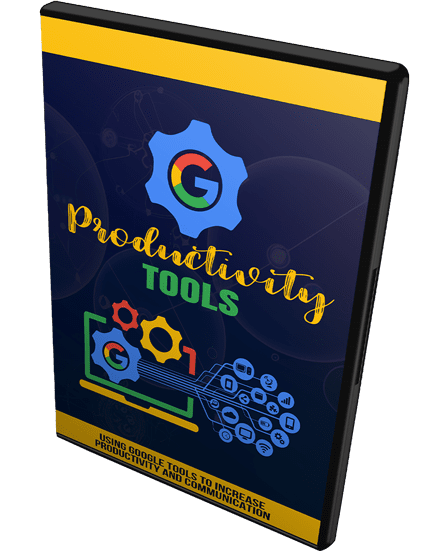 Here they are:
Search Element #1: Google Advanced Search Symbols
Search Element #2: Google Scholar Search
Search Element #3: Google Advanced Search Operators
Search Element #4: Google Ngram Search
Search Element #5: Google Correlate Search
Search Element #6: Google Think Insights
Search Element #7: Google All In Operators
Search Element #8: Google URL Modifier Advanced Search
Search Element #9: Google Patents Search
Search Element #10: Google Legal Research
Search Element #11: Google Research Publications
And Much, Much More…
WOW…We've Covered Everything, Right?
Remember, most of the people who get started like you will spend weeks trying to figure out this "tech stuff".
Sure, they'll know WHAT to do, but will they know HOW to do it?
You're getting access to these 27 How To Videos walking you step by step what to do for just $9.99.
That's nothing when you consider the time you save…getting you one step closer to earning more income.
has been added to your cart!
have been added to your cart!
Here's a Sample Video So That You Know What To Expect From These Videos
Package Details:
Graphics
Lead Magnet Page
Sales Page
Video Mind Map
Videos
VSL Video
Advance Video Course:
Affiliates Toolbox
Upsell Page
Videos
Visual Cheat Sheet
VSL Video
Total File Download Size:
539 Megabytes (MB)
Master Resell Rights License:
[YES] Can be sold "as is" but not for less than $7
[YES] Can pass on the Resell Rights privilege (MRR) to your customers
[YES] Can add this product to a Membership Site or Bundled Within a Product Package as a Bonus
[YES] Can giveaway this product (NOT the editable source code files) to your subscribers, members or customers as a bonus or gift
[YES] Can giveaway the lead generation report (if any) for email list building purposes
[YES] Can edit the salespage(s) with your personal details and order link
[YES] Can be used as basis for your webinar/seminar
[YES] Can be added to paid membership sites
[NO] Can sell Private Label Rights (PLR)
[NO] Add to a free membership sites
[NO] You can't just pass away the product to anyone
[NO] Content of this product can be edited, modified or altered
Share this and get 20% off!
Related Products That May Interest You